Less than one week until Spring is here! Spring is my favorite season. The sun actually feels warm, the trees and flowers come back to life, and everything is full of color! With spring comes Easter. Ever wonder why Easter is celebrated on a different weekend each year? Easter is always the first Sunday, after the first full moon, after the first day of Spring. I love Easter. Not only is it a time to celebrate the resurrection of our Savior, it is a time to celebrate new life and every celebration has to have great food. I've scoured Pinterest and found my favorite 20 Easter recipes for you. There are fun takes on traditional Easter fare and lots of cute desserts!
1. Easter Bunny Cake. Look at how easy this looks! And you can let the kids in on decorating that bow tie. All your Easter guests will get a kick out of this.
2. Peach Glazed Ham. Honey glazed ham out, peach glazed ham in. This starts with a precooked ham, all you have to do is make the glaze and bake. So easy and sure to impress. Here's a substitute for the wine, if you need. 1/2 C white cooking wine + 1/2 C water + 1/3 C sugar. I might skip the wine too. I think the Peach glaze sounds fantastic with out it!
3. Ham Egg and Cheese Biscuit Bake. A perfect way to use up left over ham. Or dip into that ham early and make this for your Easter breakfast or brunch.
4. Funeral Potatoes. I would be completely remiss if funeral potatoes were not on this list. This is a long standing Easter tradition in my house. Potatoes covered in cream, butter, crushed corn flakes, and more butter. I mean, come on. This stuff is fantastic.
I also found a family recipe for funeral potatoes. It is pretty similar to the one above. There are more cornflakes and green onion, instead of onion powder. The green onion adds some great burst of extra flavor here and there, and also adds some color to an otherwise plain dish.
5. Spring Pie Pops. How cute are these? And they aren't cake pops, they are pie pops! What kind of pie you ask? Chocolate-Freaking-Satin. You won't stop at just one.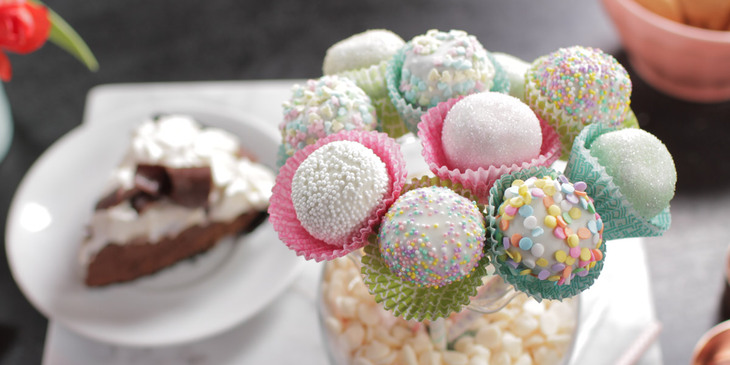 6. Easter Carrot Cheese Ball. Why didn't I think of this?! A Cheese ball in the shape of a carrot. How simple and festive. A perfect Easter appetizer.
7. Carrot Bundt Cake. More carrots. How did bunny's and carrots get in the Easter mix? The egg thing I get, but the bunnies? Is that a Hallmark thing? Anyways, are you drooling just looking at this? Carrot cake with a cream cheese swirl. I am sure there will be none of this left on your table.
8. Carrot Mango Kiwi Smoothie. What a fun drink for an Easter brunch. I bet no one will believe there is carrot in here, either. The mango and kiwi will make such a great combo and the carrot will add some festive fun.
9. Spicy Raspberry Glazed Ham. Another ham variation. I am all about trying something new and mixing fun flavors. Not only is there raspberry, there is chipotle! This ham will really pack a punch of flavor.
10. Maple Dijon Roasted Carrots. Besides funeral potatoes, glazed carrots are a must at your Easter dinner. Trust me when I say maple and Dijon is the perfect opposites-attract-food-marriage. The maple really takes down the Dijon kick down a notch and the Dijon spices up the maple sweetness.
11. Carrot Patch Cake. I love the fun surprise in the middle of this chocolate cake. I also love the look of the chocolate dripping down the side. I could dig my fork into this right now.
12. Creamy Dijon Garlic Potatoes. If funeral potatoes aren't your thing, here's another tasty potato dish to try. (And a prettier one too!) Imagine scalloped potatoes but a step up with Dijon mustard and Gouda cheese.
13. Easter Bunny Veggie Tray. I can't help but love this. It's a little cheesy and silly, but its so goofy, you can't help but smile at it. Spinach dip in a bread bowl, Easter style. You can do a whole veggie tray around the bunny too. Carrots, celery, snap peas, olives, throw it all on there! I bet the kiddos will be eating their veggies too.
14. Colored Deviled Eggs. I understand how eggs and Easter go hand in hand, but deviled eggs? At least we have a way to Easter-ify them now. I've never died the inside of the egg before, but I am planning on it! I love all the color in these eggs that normally are pretty plain.
15. Ham and Swiss Sliders. Perfect Easter lunch while everyone waits for the feast to begin, or a great way to use up all that leftover ham.
16. Creamy Blueberry Lemon Baked French Toast. I love the idea of using french bread in french toast. What better way to use a crusty loaf of bread than turning it into french toast. (Besides just eating it, of course!) An easy dish to serve a crowd of Easter guests for breakfast. You can prep this the night before and pop it in the oven in the morning.
17. Romanian Easter Bread. I can't get over how beautiful this bread is. Traditional Easter bread is officially on my bucket list. It's a braided bread, formed to make a nest and that creamy looking center is a ricotta filling with raisins. Yum and yum
18. Carrot Pudding Cups. This is a fun Easter snack for the little ones that requires no cooking, just dipping! I bet your kiddos will love to hop up on the counter with you and dip the strawberries.
19. Prosciutto Green Bean Bundles. These look fantastic and could be used as an appetizer or a side dish.
20. Rack of Lamb. If you want to go with something other than traditional ham for Easter, e-how gives a fool-proof tutorial on how to cook rack of lam. I've never made lamb before, and they make it look easy!
21. Bunny Bum Pancakes! We love pancakes here at my house and sometimes we have a little fun with them when the occasion calls for it. Your kids will love it! For a great pancake recipe see Grandma Rock's Secret Pancake Recipe.